Patch is on a mission to make taking medications easy for people of all ages. Patch has designed their revolutionary PatchCap, a Bluetooth connected attachment for medication bottles. Paired with the Patch mobile app, the PatchCap automatically dispenses pills at a scheduled dosage time while also prompting users with reminders. 
Our objective was to design the Patch Mobile App from the ground up to achieve a seamless experience for users self-managing and self-administering medications. The app needed to be simple and intuitive so that even non-tech-savvy elderly users could find their way around the product. As a unique additional feature, we were tasked with creating a way to integrate "buddies" into the app offering. This would allow family and friends to check in and help manage their loved one's medication schedules.
Patch is currently in development and is scheduled to go live in 2020.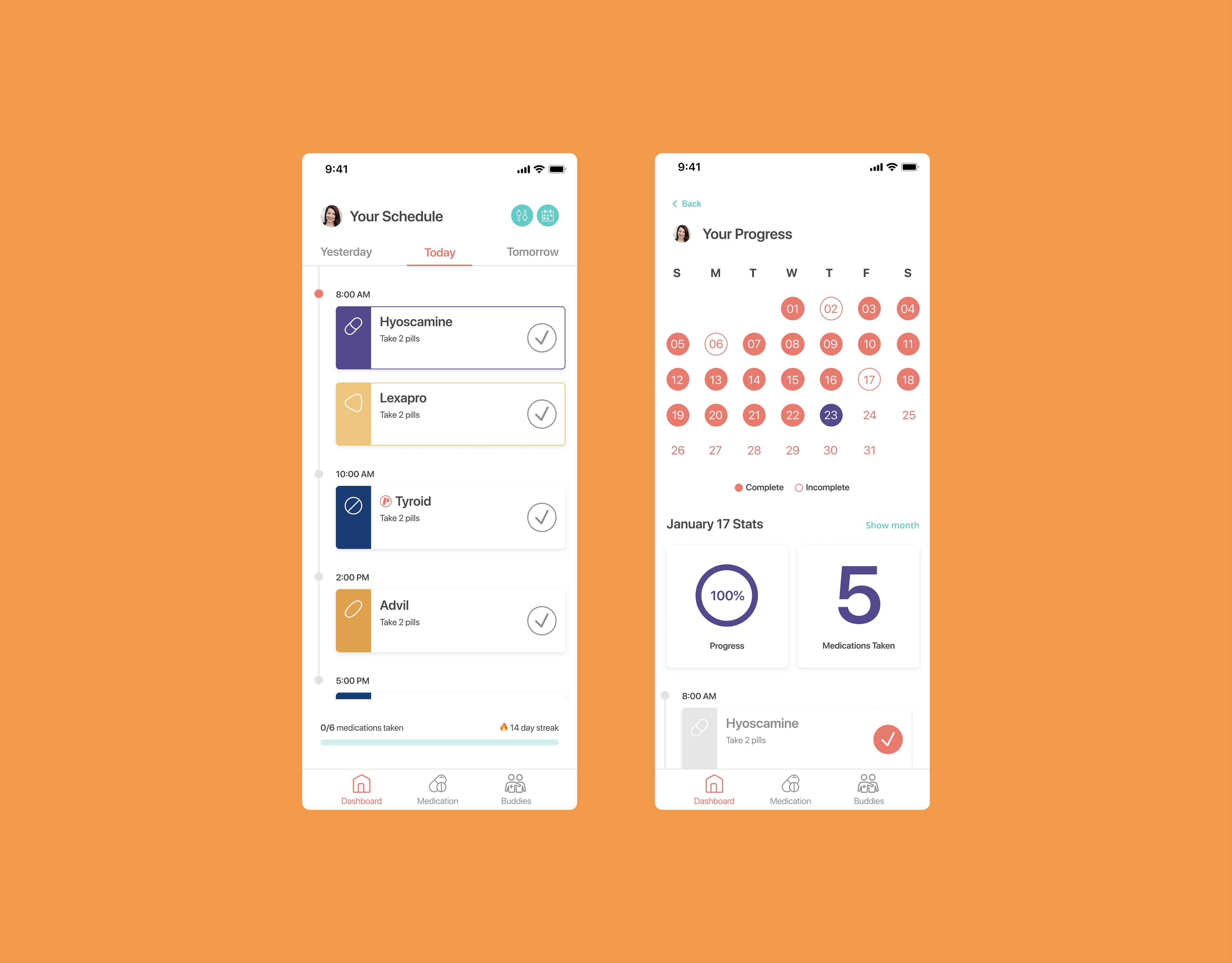 After a deep dive into prior user research, we knew that most of the users of the app would be elderly. Making sure the experience fit their needs was essential to us as a team. We took into account button size, color choice, and app simplicity. To better understand the users, we also created user flows and storyboards to capture the user's journey.
We started mapping out the functionality of each screen with our wireframes. Every week we would playback our latest designs with the larger Patch team for feedback. By starting with low-fidelity wireframes, we quickly and effectively-identified usability issues early on in the design process.
The style guide we created for Patch included an extended color palette, icon set, illustration library, and button designs. We worked closely with the Patch team to make sure the app's look and feel were what they wanted, which was friendly and warm but trustworthy. I was given the opportunity to design the marketing slick using all the elements from our new style guide.
The final designs allow the user to quickly see their medication schedule as soon as they open their Patch app. A timeline guides the user through their day with visual signals and time stamps. The simple navigation makes important tasks easy, like adding a new medication or contacting a buddy for help.